Project Management

Service maintenance and/or project management contracts are available on-site or per-project as needed for your network infrastructure. Consulting is sometimes all that is needed to initiate your communication installation project. We can provide that service to you. We can also provide an on-site maintenance team at your company to take care of any day-to-day communication needs.


Project Design, Installation and Maintenance

Through pre-consulting and project review, we help our clients navigate their long-range plans and prepare for future network needs. Unusual applications, time constraints along with budget realities, are all taken into consideration while assisting you in achieving your objectives. Our experts conduct systems analysis and site surveys to make comprehensive recommendations on all aspects of network design. We are able to offer professional service from the cabling to the network electronics providing complete system integration including CAD drawings.
We adhere to EIA/TIA, IEEE, BICSI, NEC codes and standards and we have data network resources offering testing, verification, documentation, and certification. These resources combined with our cabling services allow us to offer turnkey installations.
Our technicians are trained to install, test and terminate premise wiring, campus wiring and fiber-optic cabling. We specialize in documenting, re-design and re-work of older campus wire and cable systems to provide modern network management. Our technicians are skilled in MDF/IDF hardware, RF Broadband and video systems. Many installation types involving telephone and data cable plants to computer room applications are available as well. We can handle moves, adds, changes and telephone services.
We offer testing, verification, documentation and certification for this process. Our people have the knowledge it takes to get the job done right.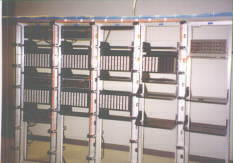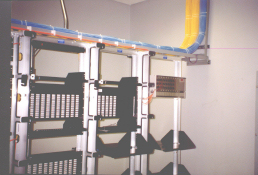 At TCS, we solve problems for our clients. We engage in a continuous training effort to help us to meet even the greatest challenges on the job. In addition to network design and cabling solutions, we regularly add to our list of services. Because communication needs often overlap, we have experience in many aspects of communications. This enables us to work independently or as part of a team of separate vendors.




Our technicians completeing an installation in a Triangle area manufacturing plant.
Home | About Us | Links | Contact Us